The Countdown to Black Friday Is on!
SIGN UP NOW FOR EXCLUSIVE EARLY BIRD ACCESS TO OUR BLACK FRIDAY & CYBER MONDAY DEALS
(Free gifts with purchase are limited to the first 1000 orders.)
UPDATE: Ice Shaker has sold millions since airing on ABC's Shark Tank

Since the airing on ABC's Shark Tank, Ice Shaker has exploded. Ice Shaker has went from 1 standard size 26oz bottle to a wide variety of bottle from 36oz down to 6oz.

"The response was incredible" says CEO Chris Gronkowski. "Every day someone tells me that they saw the episode and purchased the product. They couldn't be happier that someone finally made a shaker bottle that will keep their drinks cold and doesn't smell awful after a month. We are still struggling to keep a lot of products in stock and are excited for the future. We came into the Shark Tank with $80,000 of sales and have since sold millions worth of product in less than year. It has been a lot of work and a lot of sleepless nights but it has been a dream come true for me."

Ice Shaker was featured again on ABC's Shark Tank in November 2018 in which Alex Rodriguez stated that Ice Shaker "is up 500%". The update also reveled that Ice Shaker will be going into over 3,500 GNC stores throughout the nation. Ice Shaker Is now available in all Lifetime Fitness Locations & The Vitamin Shoppe locations along with GNC.

Liquid error (templates/page.gem-47028142158-template line 16): product form must be given a product
Liquid error (templates/page.gem-47028142158-template line 16): product form must be given a product
Putting Ice Shaker to the Test
The 30 Hour Test:
When filled with ice and left on the counter with the top off, the ice shaker still had ice in it well after 30 hours. This was over six times longer than the plastic bottle we tested. The plastic bottle of similar size ended up leaving a pool of condensation all over the counter after all the ice melted in less than 5 hours.
The Ice Shaker still had ice in it after 24 hours in a steaming hot car on a 96 degree day!
What makes the Ice Shaker unique is the twist in removable agitator. By using the agitator and the measurement markings inside the bottle, the Ice Shaker is able to mix the perfect protein shakes during the week and your favorite cocktails by the pool on the weekend.

The removable agitator also works great as a fruit infuser. Just toss a few pieces of fruit inside the agitator and twist back on and you will have an ice-cold fruit infused drink all day long.

The 36oz Ice Shaker Bottle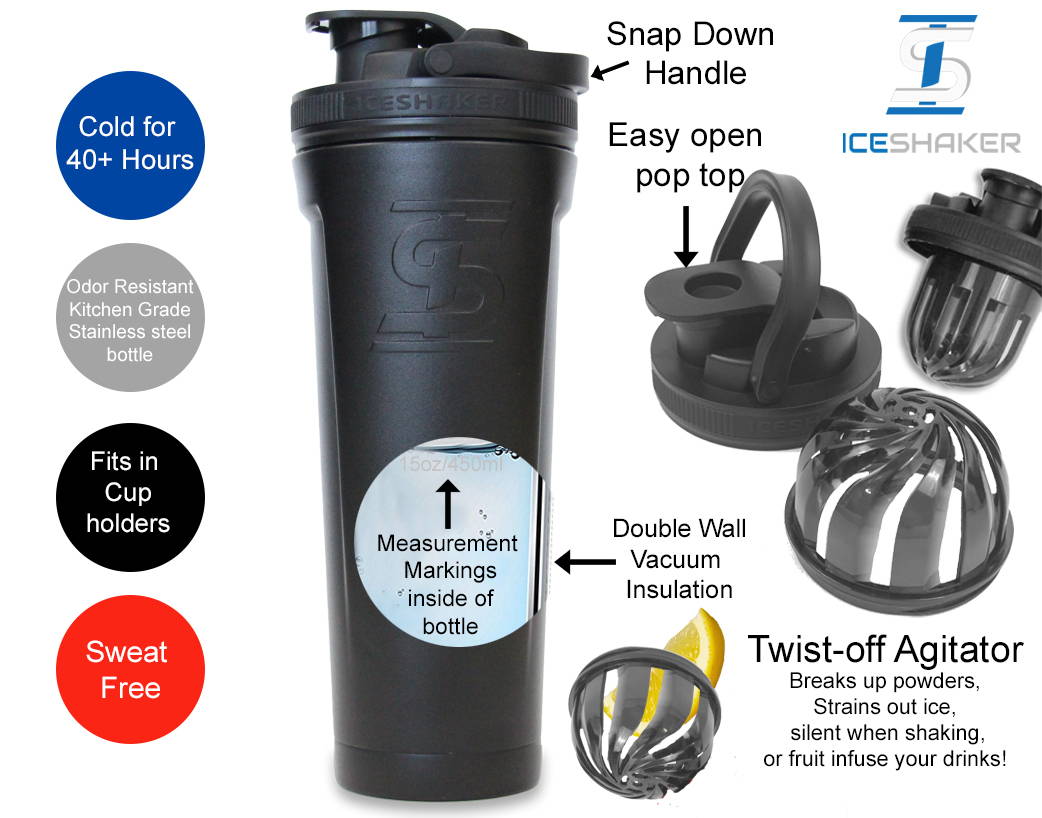 Other top selling products
Liquid error (templates/page.gem-47028142158-template line 16): product form must be given a product
Liquid error (templates/page.gem-47028142158-template line 16): product form must be given a product
Liquid error (templates/page.gem-47028142158-template line 16): product form must be given a product
Liquid error (templates/page.gem-47028142158-template line 16): product form must be given a product