EXCLUSIVE DEAL FOR OUR PINTEREST VISITORS
Remember when the Gronkowski brothers invaded ABC's "Shark Tank"? It wasn't the brothers competing this time, it was the sharks.

The "Shark Tank" investors, including guest judge, Alex Rodriguez, all clamored for a piece of Ice Shaker, which sells insulated bottles that will hold ice for over 30 hours and are made of a kitchen grade stainless steel that does not absorb odor like a typical plastic shaker bottle.

Chris Gronkowski came on the show seeking $100,000 for 10 percent stake in his company Ice Shaker. He first had the idea for the business when he noticed that his cabinet full of plastic shaker bottles had problems: they leaked, they were not insulated and they started to smell bad from use. So, he created his insulated kitchen grade stainless steel version that would fix all these issues. In its first six months, Ice Shaker sold about $80,000 worth of shakers, selling online, through Amazon and a few retailers.

For Gronkowski, "Shark Tank" was about finding a business partner instead of just a loan. With offers from all 5 sharks on the table, Gronkowski was able to negotiate down an offer from Mark Cuban and Alex Rodriguez, landing on a deal for $150,000 for a 15 percent stake, valuing the company at the original $1 million Gronkowski wanted.

UPDATE: Ice Shaker has sold millions since airing on ABC's Shark Tank

Since the airing on ABC's Shark Tank, Ice Shaker has exploded. Seven newly released color variations are now available in both a 26oz and a 16oz version and a new skinny steel tumbler in over 15 color variations with a reusable straws are also an addition to the Ice Shaker product line and are perfect for sipping your favorite drink.

"The response was incredible" says CEO Chris Gronkowski. "Every day someone tells me that they saw the episode and purchased the product. They couldn't be happier that someone finally made a shaker bottle that will keep their drinks cold and doesn't smell awful after a month. We are still struggling to keep a lot of products in stock and are excited for the future. We came into the Shark Tank with $80,000 of sales and have since sold millions worth of product in less than year. It has been a lot of work and a lot of sleepless nights but it has been a dream come true for me."

Ice Shaker was featured again on ABC's Shark Tank in November 2018 in which Alex Rodriguez stated that Ice Shaker "is up 500%". The update also reveled that Ice Shaker will be going into over 3,500 GNC stores throughout the nation.

Liquid error: product form must be given a product
Putting Ice Shaker to the Test
The 30 Hour Test:
When filled with ice and left on the counter with the top off, the ice shaker still had ice in it well after 30 hours. This was over six times longer than the plastic bottle we tested. The plastic bottle of similar size ended up leaving a pool of condensation all over the counter after all the ice melted in less than 5 hours.
The Ice Shaker still had ice in it after 24 hours in a steaming hot car on a 96 degree day!
What makes the Ice Shaker unique is the twist in removable agitator. By using the agitator and the measurement markings inside the bottle, the Ice Shaker is able to mix the perfect protein shakes during the week and your favorite cocktails by the pool on the weekend.

The removable agitator also works great as a fruit infuser. Just toss a few pieces of fruit inside the agitator and twist back on and you will have an ice-cold fruit infused drink all day long.

The 36oz Ice Shaker Bottle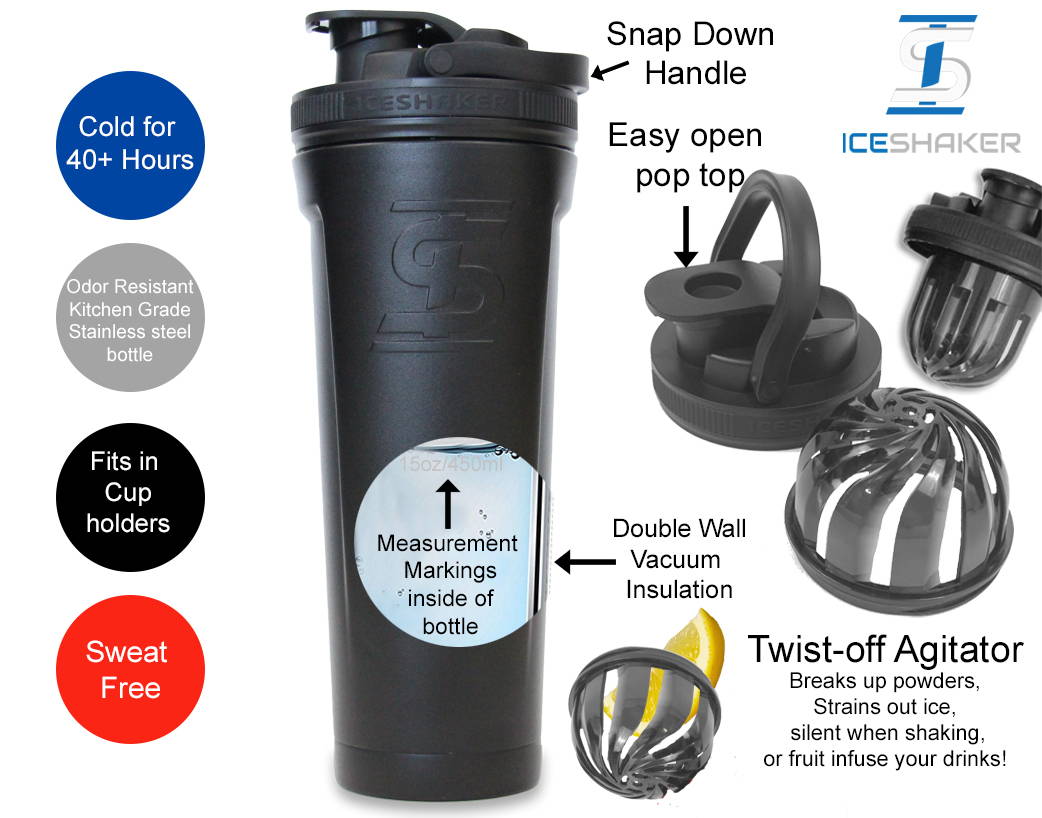 Other top selling products
Liquid error: product form must be given a product
Liquid error: product form must be given a product