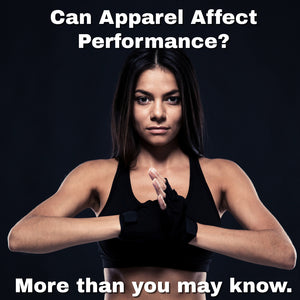 Does Your Apparel Make a Difference?
Performance apparel, also called "Sportswear" or "Activewear" has gained enormous popularity in the last decade.  So why has the category which traditionally has been reserved for competitive athletes become so popular by mainstream consumers? Not surprisingly, a lot of it has to do with the increased awareness of the benefits of physical activity and trends within the fitness industry.  Sports and activities like StadiumBlitz, Yoga and cycling(think SoulCycle, Spin Class, etc.) have helped the "average" person crossover into a more competitive realm of activity.  Health, well being and mindfulness have become serious areas of interest for the masses around the world.  The performance apparel industry has recognized this and has done a phenomenal job of not only pioneering new technologies that help increase performance but have also turned their apparel into fashion trends.
"If you look good, you feel good. If you feel good, you play good."
-Deion Sanders
Having said that, there are literally THOUSANDS of options to choose from when looking to purchase Sportswear.  So, what differentiates one performance tee from another?  There is a wide range of prices from very low cost "economy" options to high end "luxury" apparel.  Much of the differentiation stems from brand prestige(think name brand), style(colors, cuts,etc.), and material.  In this article, we are going to focus primarily on the materials used and how they can help(or hinder) athletic performance.
Our top fabrics and why we chose them:
Bamboo Fiber- Yes, you read that correctly...Bamboo fiber has recently taken off as a top contender in performance fabric.  Bamboo is lightweight and breathable, allowing more airflow to keep you cool and dry during a tough workout.  Additionally, Bamboo fabric is excellent at wicking moisture away from the body to keep you dry.  One of the main reasons why we like it so much is, Bamboo fabric is naturally anti-bacterial and will reduce odors like many other fabrics cannot.  And finally, Bamboo fabric is a top choice for outdoor workouts as it offers UV protection up to 50 UPF!
HYLETE-Icon II Quad Blend Crew Tee
31% Bamboo Rayon/ 32% Rayon/ 31% Cotton/ 6% Spandex
Use code: ICESHAKER20 for 20% off HERE.
Lyocell- This fabric is a form of the more well known Rayon. It is made from wood pulp thus, it is often marketed as environmentally friendly.  It has the feel of silk which many would agree feels pretty good on the body.  It has excellent moisture wicking properties because moisture is drawn away from the body by the filaments that make up the fabric.
Moisture Wicking Cotton- It is important to note that we are talking about a particular type of cotton that has been made to wick away moisture from the body. Standard cotton does not do this-we'll get into this later.  Moisture wicking cotton is not our favorite choice but there is something to be said about the comfort and familiarity of cotton garments.  Using workout apparel in this fabric will give you the best of both world. Plus, a moisture wicking cotton tee can double as an everyday shirt and workout shirt-which can be nice.
Nylon- Nylon is not usually the first fabric to come to mind when discussing performance apparel...But, it certainly should be near the top of your list.  Nylon possesses some of the most sought after qualities for hard sweat sessions.  It is flexible, breathable, quick drying and is great at wicking away moisture from the body.  In addition to all of the above, it is also extremely durable so you can bet it will last for MANY workouts to come.
91% Nylon/ 9% Spandex
Use Code: ICESHAKER20 for 20% off HERE
Spandex- We couldn't leave this one off the list as it has been tried and true for decades!  It has almost unmatched flexibility, is incredibly durable and is great at wicking moisture from the body keeping you cool and dry throughout your workout.  Considering how long it's been around, it says something that is is still widely used in performance apparel garments to this day.
Body: 46% Nylon/ 40% Polyester/ 14% Spandex
Mesh Liner: 84% Nylon/ 16% Spandex
Use code: ICESHAKER20 for 20% off HERE.
Not your best options:
100% Cotton- Cotton is great for regular day to day wear. It's breathable and most people like the comfort that it provides...when dry.  Unfortunately for 100% cotton lovers, it absorbs moisture and does a less than ideal job at wicking sweat away from the body.  100% cotton garments become heavy and make you feel like you're wearing a wet sack. You have probably also noticed that they're not the best at fighting bacteria.
Standard Polyester- We don't want to lump all polyester into this category because in fact, some polyesters are excellent for exercise. Those that have moisture wicking technology or blended with other fabrics can be safe but, standard polyester should be a no-go if you plan on getting your sweat on.  Standard polyester is actually a more hospitable environment for bacteria from sweat to grow...even more so than 100% cotton.  If it is not immediately washed after use, t could even develop a permanent odor that will be brought on as soon as sweat hits it again.
So, there you have it! Hopefully this gives you some direction when deciding on your next sportswear outfit.  No matter which fabrics you choose, you are already winning just by being active and working up a sweat!  Oh, and if you want to make the process really easy on yourself, just head over to HYLETE.com. You can be sure that each of their garments is constructed using the highest quality of the best materials.  Plus, their style is second to none!
Use code: ICESHAKER20 to get 20% off of your first purchase at HYLETE.
*Coupon code valid only for first order. Not valid with any other coupons. May not be used towards purchase of E-gift cards. NO EXPIRATION date.
---