Frequently Asked Questions
Hopefully we'll be able to answer your questions before you need to ask. In case your question is not addressed below, we would love to answer it for you. If this is the case, please send us an email at info@iceshaker.com. You will be hearing back from a customer service representative within one business day.
What features make your Bottles different from one another?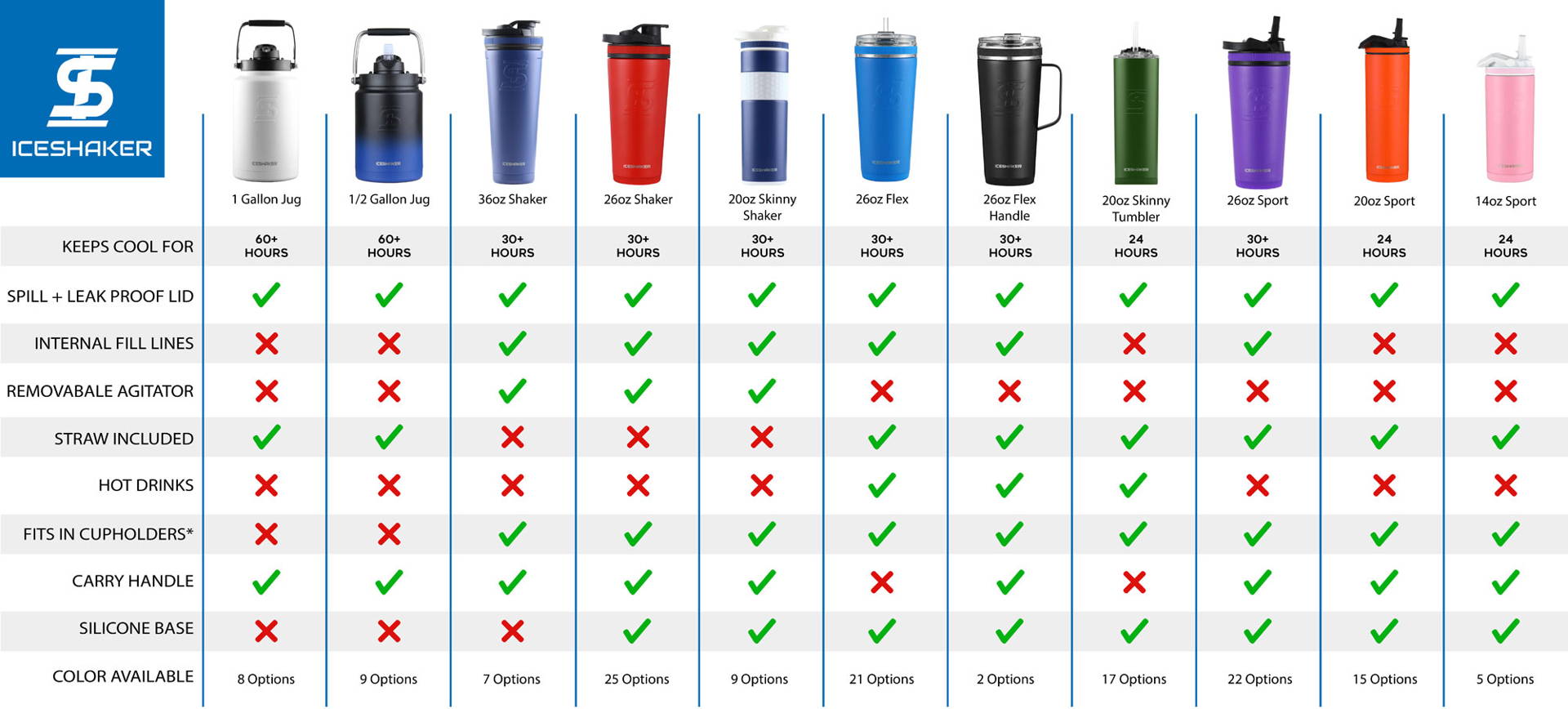 Are Ice Shaker Bottles & Tumblers dishwasher safe?
Ice Shaker's solid-colored and ombre-colored bottles and tumblers, and their lids are dishwasher safe. However, we do recommend that you use
low heat when drying.
If you have a bottle with a patterned design (i.e. pineapple or snakeskin), please
hand wash only
to prevent discoloration of the pattern.
How can I customize my Ice Shaker?
We make customizing your Ice Shaker easy and we would love to add that personal touch to your bottle or tumbler. All customizations are done using a state-of-the-art laser that will leave a permanent engraving on your bottle/tumbler. Engravings will not fade, rub off or chip...EVER! Take a look at our custom shop here and let us make it extra special today. If you don't see a particular color bottle/tumbler in the custom shop, we are unable to engrave on it at this time. Please allow 3-5 business days for processing on custom orders prior to shipment. If faster processing times are required, please contact us at info@iceshaker.com and we can fast-track it for a nominal fee.
How long will my Ice Shaker keep my drink cold?
Up to 30 hours! Our bottles and tumblers work. Period...So does science. The amount of ice and the temperature of the liquid you put into your Ice Shaker will affect how long your drink stays ice cold. To maximize the effectiveness of your Ice Shaker, we recommend filling it up with ice and pouring already-cool liquid into it. If minimal ice is used or warm/room temperature liquid is poured in, a lot of the ice will immediately melt before the cup even gets the chance to show off it's insulating abilities!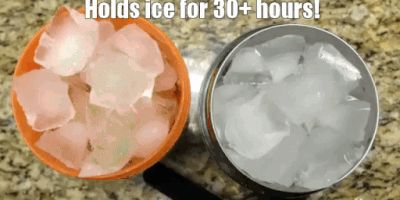 Which Bottles & Tumblers are best for hot drinks?
We recommend our 26oz Flex Bottles and 20oz Skinny Tumblers for hot beverages since they feature lids that allow for proper venting. Though our Shaker Bottles will certainly keep your beverages piping hot, they do not allow the steam put off by the hot liquid to properly vent. Pressure from this steam could cause the pop-top to open unintentionally.
What is the difference between the Shaker Bottles, Flex Bottles, and Sport Bottles?
Great question! In short, the difference is in the lids. All bottles feature the same insulated cup.
Ice Shaker's Shaker Bottles are designed to perfectly blend protein powder shakes, pre workouts, BCAAs, and more with its patented twist-on agitator that silently and seamlessly blends your beverage. The patented agitator can also be used to infuse your drink with fruit and can also work as a strainer to prevent ice from passing through. Shaker bottles also come with a spill-proof and 100% leak-proof lid. The lid also has a convenient carry handle built into the lid and features a pop-top spout to drink from. Shaker Bottles do not come with a straw.
Ice Shaker's Flex Bottles are designed for both hot and cold beverages including coffee, tea, water, smoothies, carbonated drinks, and more. Our Flex Bottles come with our unique Flex Lids which offer TWO ways to sip! The unique Flex Lid lets you choose how you want to sip your favorite drink: flip up the lid tab to drink from the spout on the edge of the lid or insert the included straw into the straw hole in the center of the lid to sip your drink from a straw. When not in use, use the rubber stopper to plug the straw hole so that your cup doesn't leak! Our Flex Bottles comes with one reusable Tritan Straw.
Ice Shaker's Sport Bottles are designed for those on the go. Available in three sizes, our Sport Bottles are 100% leak and spill proof and are great for toddlers, kids, teens, and adults! You can use the Sport Bottle for beverages like sport drinks, water, juices, iced teas, and lemonade. The twist-on, leak-proof lid comes with a Flip Up Sport Straw with an internal straw (included) that makes it very easy to sip your drink and has a handle built into the lid for easy carrying to and from home.
Are the Shaker Lids, Flex Lid, and Sport Lids all compatible with the 26oz cup?
YES! If you are having trouble deciding between the Shaker Bottle, Flex Bottle, or the Sport Bottle, you can always choose one and buy the alternate lid separately. Additional lids are available here. Please refer to the previous question for an overview on what makes the lids different.
*Sport Bottle Lids are only available in a Sport Lid Bundle (this includes the lid and 2 straws)
How long does processing and shipping take?
We are sticklers for fast shipping, so we do our best to get non-custom orders shipped out within 24 hours from the time they are placed. Weekend orders are the exception (we are spending time with our families) but, we will get those out the following Monday. Custom orders may take up to 5 business days to process.
There are some different options to choose from when shipping your order, which you can select towards the end of the checkout process after you enter your ship to address. For orders in the US, we ship via FedEx and USPS.
Shipping options include:
Standard (4-7 business days): $7.99
Home/Ground for smaller orders (2-4 business days): $2.99 - $4.99
Express (2 business days): $11.95
We also offer Express Saver and Overnight, but the shipping price for these options will generate based on your ship to location and the weight of your order.
For international orders, we ship via FedEx, Passport, and APC. Shipping times and prices vary for all countries and will generate based on your ship to location and the weight of your order. For more information on how shipping works in the US and for international orders, please refer to the below "How do I track my Package?" and "International Tracking" sections below.
*Please note that not all of these shipping options will always be available as they depend on your ship to location and weight of your order.
Do your bottles fit in standard size cup holders?
All Ice Shaker Bottles will fit in standard size cup holders except for the Half Gallon Jugs and One Gallon Jugs.
What makes Ice Shaker different from any of the other insulated bottles out there?
We know that you have A TON of options out there when shopping for an insulated bottle. At Ice Shaker, we're innovators in the insulated drink-ware space. We offer superior functionality, performance and unique style that you just won't find elsewhere. We believe that a relationship between a company and customer shouldn't begin and end with a purchase. We focus on delivering value beyond just premium drink-ware by offering helpful articles, recipes, workout routines and entertaining content through email and social media. On top of that, our customer service is second to none offering FAST and FRIENDLY responses to any questions and concerns you may have before, during and after your purchase.
My plastic shaker cost $15, why would I pay more for an Ice Shaker bottle?
This is one of our FAVORITE questions! We know that plastic shaker bottles are cheap in price...which typically translates to cheap quality. The average life of a plastic shaker bottle is only 2 MONTHS! In many cases shorter because one missed wash can ruin it for good. You won't have this problem with your Ice Shaker bottle. In fact, it's likely that the Ice Shaker is the LAST bottle you'll ever NEED. It won't absorb odor, it's rugged and it's much more than just a shaker bottle. Use it for shakes (of course), water, sports drinks or even adult spirits (only if you're over 21) and, it will keep them all ice cold for hours without breaking a sweat...literally, our bottles will never condensate. So, you could spend 15 bucks up to 6 times in a year OR you could pay a little more up front and never have to worry about spending money on a shaker bottle again.
Where will my Ice Shaker be shipped from?
All of our products ship from our headquarters located in Southlake, TX and typically ship out within the 24 hours it was recieved.
An item I want is out of stock. How can I be informed when it returns?
If an item you want is out of stock, simply click on the Red "Notify Me When Available" button on the product page, put in your email address, and as soon as we get it back in stock you will receive an email letting you know!
We sure do! We offer wholesale on both custom and non-custom orders. To learn more about purchasing wholesale from us, please click HERE to be directed to our wholesale information page. You will find that we make purchasing wholesale from us quick and easy. If you're interested in placing a custom wholesale, you won't find anyone with turnaround times as lightning fast as ours!
What is your return policy/warranty?
We offer a limited, 30-day product return policy. If at any time during the 30 day period you decide you no longer want your Ice Shaker, simply send the UNUSED product back to us and we'll refund you in full once we receive it. Let us reiterate...UNUSED product. We will not accept products that have been used. If you return a used product, we will deny the refund and provide photograph documentation via email citing why we cannot accept the return. If you are unhappy with your used product due to performance/functionality/cosmetic reasons, please contact us at info@iceshaker.com. We will address the issue and take necessary actions to correct the problem.
All of our products including the lids come with a 1-year warranty on manufacturer defects. This would include anything that breaks or fails from normal use. Please note that our warranty does not cover issues caused by normal wear and tear, accidental drops/damage, improper use or care of the product including irregular cleaning or maintenance of the product (i.e. odor, mold, discoloration). If your Ice Shaker Bottle parts have been damaged or broken, we do offer replacement parts here.
How do I track my package?
When your order has shipped, a tracking number will be sent to the email you provided when placing your order. You can simply click on the tracking number in the email and it will redirect you to the correct website to track your package. For domestic shipments, we ship via USPS and FedEx. For international shipments, we currently ship via FedEx, Passport, and APC. When you receive a tracking number, your package will ship out within the next 24 hours regardless of if the tracking number is showing a scan in or not. We do not have any further tracking information other than what is being shown on the carrier's website.
Our Process: For international orders, we use consolidated shipping. This means that your package will not scan in until it reaches the consolidation center, which may take a couple of days. Please do not be alarmed if your package is still showing that it is in "Pre-Shipment" status after you receive your tracking notification. Rest assured that your package is on its way and will be updated with the shipping progress once it reaches the consolidation center.
If your package is being shipped via FedEx, once it reaches its destination country, it will be transferred to and delivered through your local carrier.
When you receive a tracking number, your package will ship out from our facility within the next 24 hours regardless of if the tracking number is showing a scan in or not. We do not have any further tracking information other than what is being shown on the carrier's website.
Do I need to purchase shipping insurance?
We offer shipping insurance at checkout. If you purchase shipping insurance, it will protect you against lost, stolen or damaged packages. If your package is lost or stolen, we ask that you wait at least 3 days before contacting us to make sure the package is indeed lost or stolen and wasn't just incorrectly marked as delivered. If the package is damaged, please contact us asap and we will be happy to send out a replacement.
Buy now, PAY LATER! You will notice when you checkout that there is an option to pay using Afterpay. Afterpay allows our shoppers to break down their cart total into 4 interest free payments. The process is very simple and it allows our shoppers even more freedom when purchasing from us. Simply select Afterpay as your payment method and click "Complete Order". You will be redirected to Afterpay North America to securely enter payment information and see your payment terms and amounts. Afterpay will automatically notify you when your next payment is due!
*Afterpay is available only to US Residents.
Do you ship orders to the UK & EU? If so, how will orders be shipped?
Yes, we ship to the UK & EU. To get your order to you, we've partnered with Passport Shipping and they will be the seller for orders under £135 to the UK and under €150 to the EU.
Ice Shaker Troubleshooting
Tips for your Ice Shaker
Shaker Lids-Listen for two clicks.
Our Shaker lids have a two-click system in place to ensure that your bottle only opens up when YOU want it to. When closing your pop-top, be sure that you hear/feel two clicks. If it only clicks once, it may look closed, but it is not sealed all the way.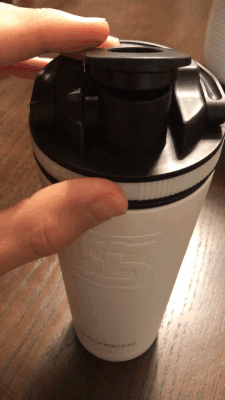 I am having an issue with my bottle not performing as it should. What should I do?
Please contact us at info@iceshaker.com. It may be a simple fix, or it could be a manufacturing defect in which case, as long as the product is still within the 1-year warranty, we will correct the issue immediately after we gather the necessary information needed from you. Once we've gathered all the necessary information from you, we will send the proper replacement.
If it outside the 1-year warranty, then we will provide next steps that you can take to correct the issue. Customer Satisfaction is our top priority!
The Seal in the lid does need to be taken out and cleaned regularly. It is okay to clean the seal once a week, but just be sure that the seal is completely dry before you put it back into the lid to avoid any moisture, bacteria growth, or odors. To remove the seal from the lid, use a butter knife to easily and gently pop it out of place. Once it's cleaned and dry, you can put it back in and secure it with a butter knife. When putting the seal back in the lid, make sure you push it down into the groove of the lid and that it is lying flat all the way around and ensure that it hugs the rim of the cup to keep it nice and sealed.
If you're experiencing any odor issues with the lid or seal of your bottle, take the seal out of the lid and soak both the lid and the seal in a small amount of hot water (enough to cover it) along with 1-2 tablespoons of baking soda to help pull out the odor. Let them sit in the mixture for at least one hour, then wash them with warm water and soap and let them dry completely. Once they're dry, you can put the seal back in the lid.
Odor after leaving protein in cups?
If your bottle is not washed properly, the protein or any other food/drink will start to spoil and will cause an odor. The good thing is that our bottles are made of premium kitchen-grade stainless steel and will not absorb the odor. If you do leave protein in your cup for an extended period of time, please clean with warm water and soap, or put the cup and lid on the top rack in your dishwasher.
Please note that our lids are made out of plastic and if you are continuing to get an odor, it will be from the lid or seal and not the stainless-steel bottle. You will need to remove the seal to clean it. Please refer to the question above for further details on how to clean your seal. If you are still having issues with odor after trying all of this, then it might just be time for a new lid, which will come with a new seal. Replacement parts can be purchased here.
How to know what size bottle I have?
Most of our products have internal measurement lines. However, the lines do not go all the way up to the top of the bottle, leaving space above the last line. So if your bottle's highest measurement line inside is 15oz, then you have a 20oz size bottle. If your highest measurement line inside your bottle is 20oz, then you have a 26oz size bottle. If your highest measurement line inside your bottle is 30oz, then you have a 36oz size bottle.
Our 14oz Sport Bottle, 20oz Sport Bottle, 20oz Skinny Tumbler, Half Gallon Jugs, and One Gallon Jugs DO NOT have internal measurement lines.
Contact Us
In case we didn't answer your question above, please send us a message or call and we'll be happy to answer it for you.
Our customer service hours are 8:00am to 4:00pm CST Monday through Friday. Please feel free to call us during these hours at 817-329-6478 or email us at info@iceshaker.com. Please allow up to 1 business day for email responses.