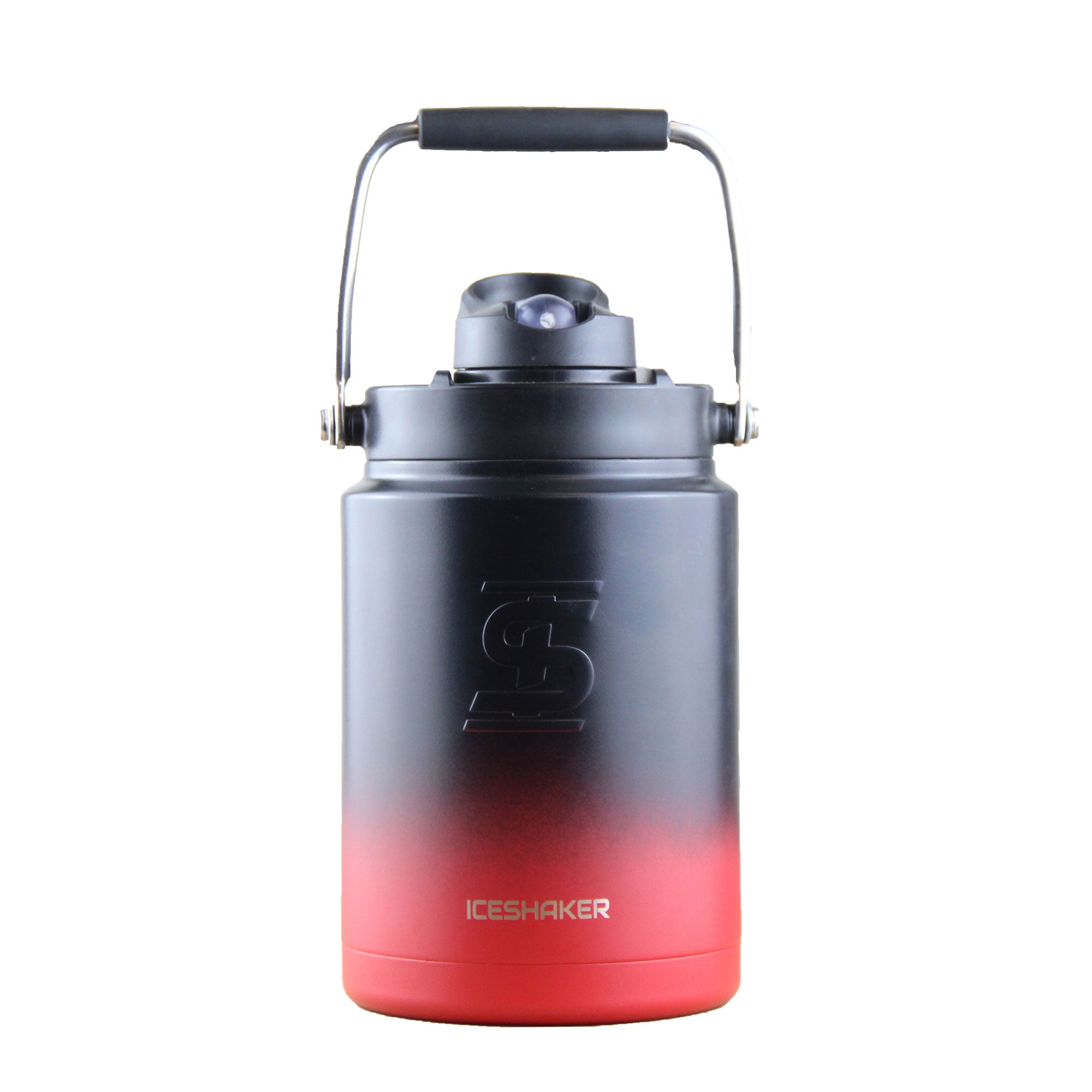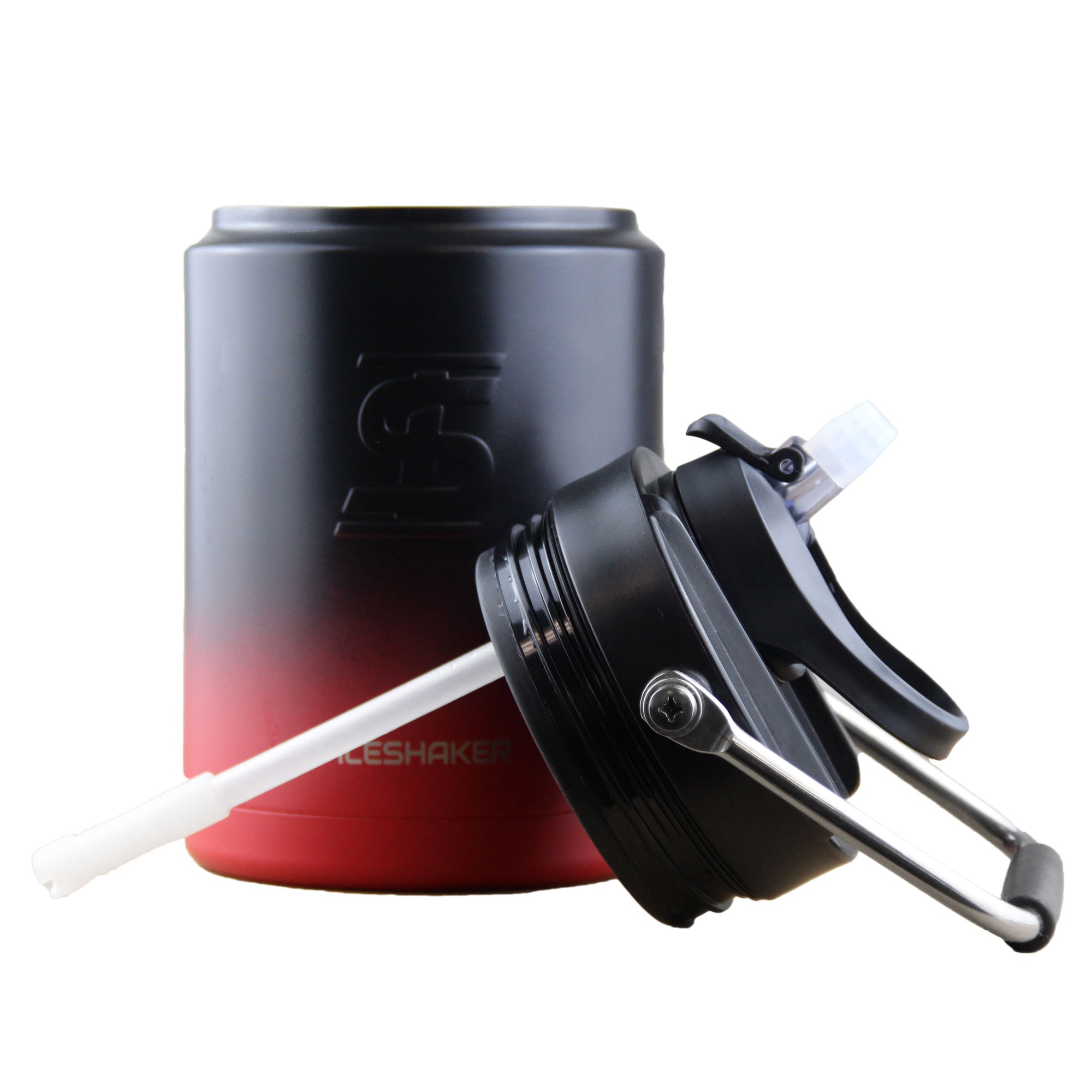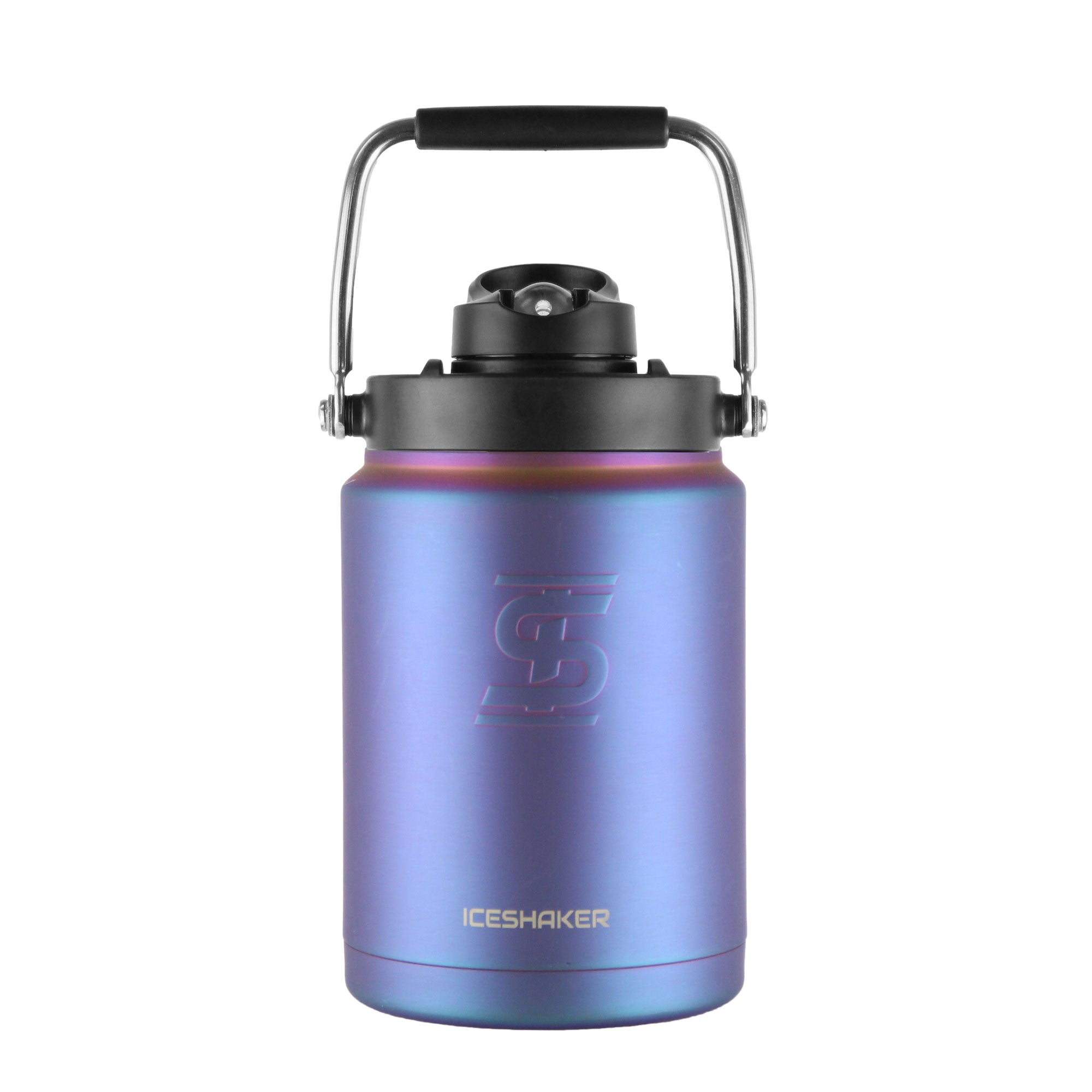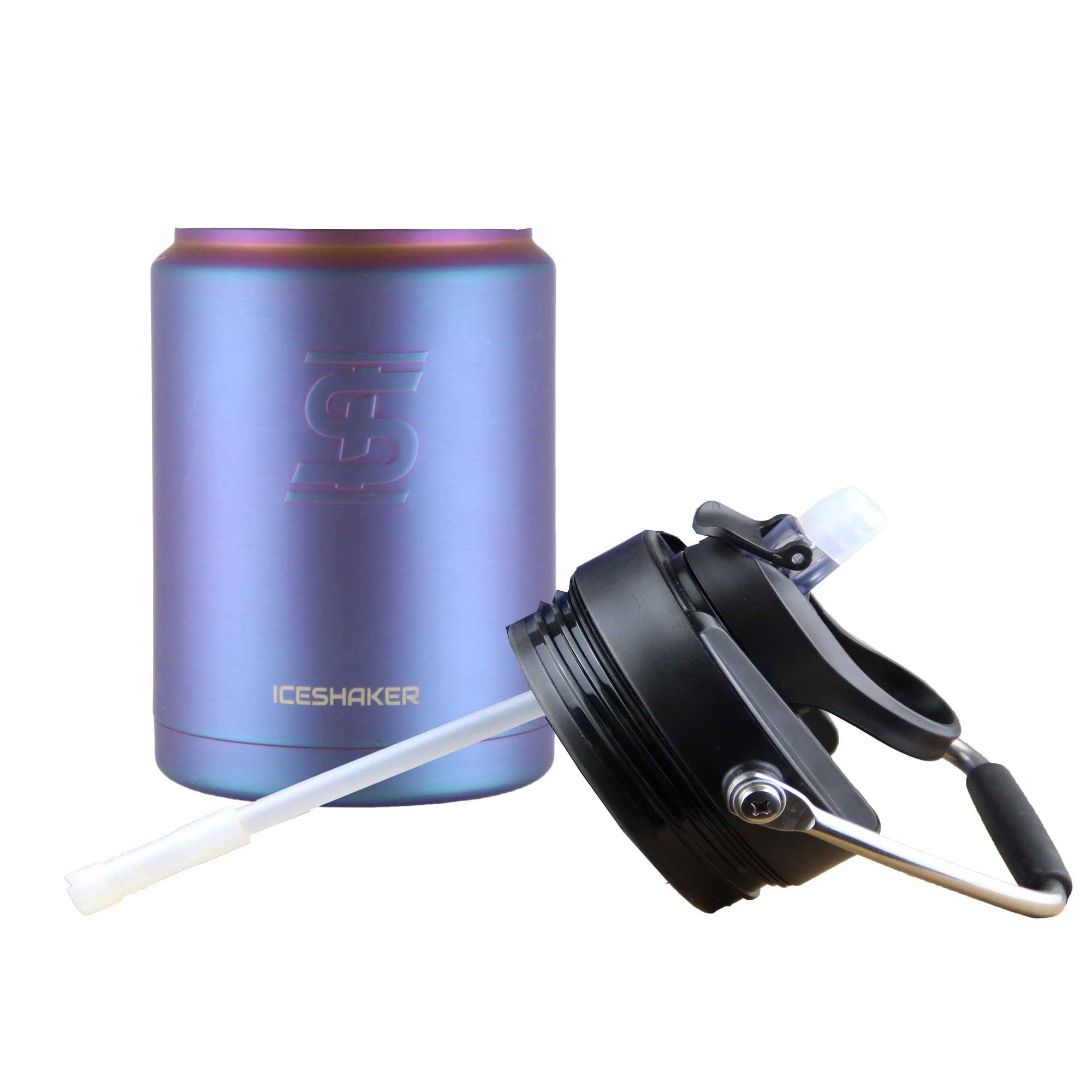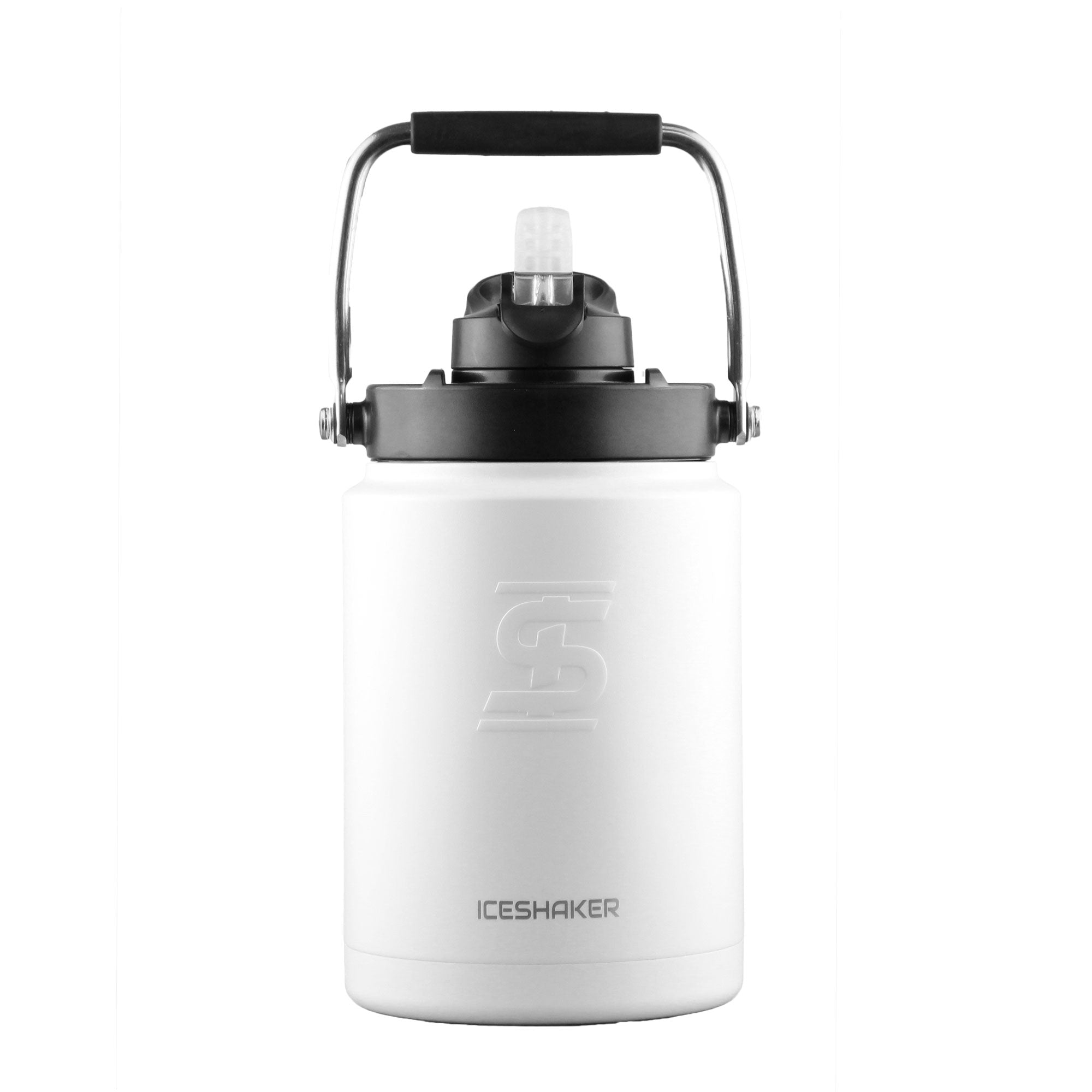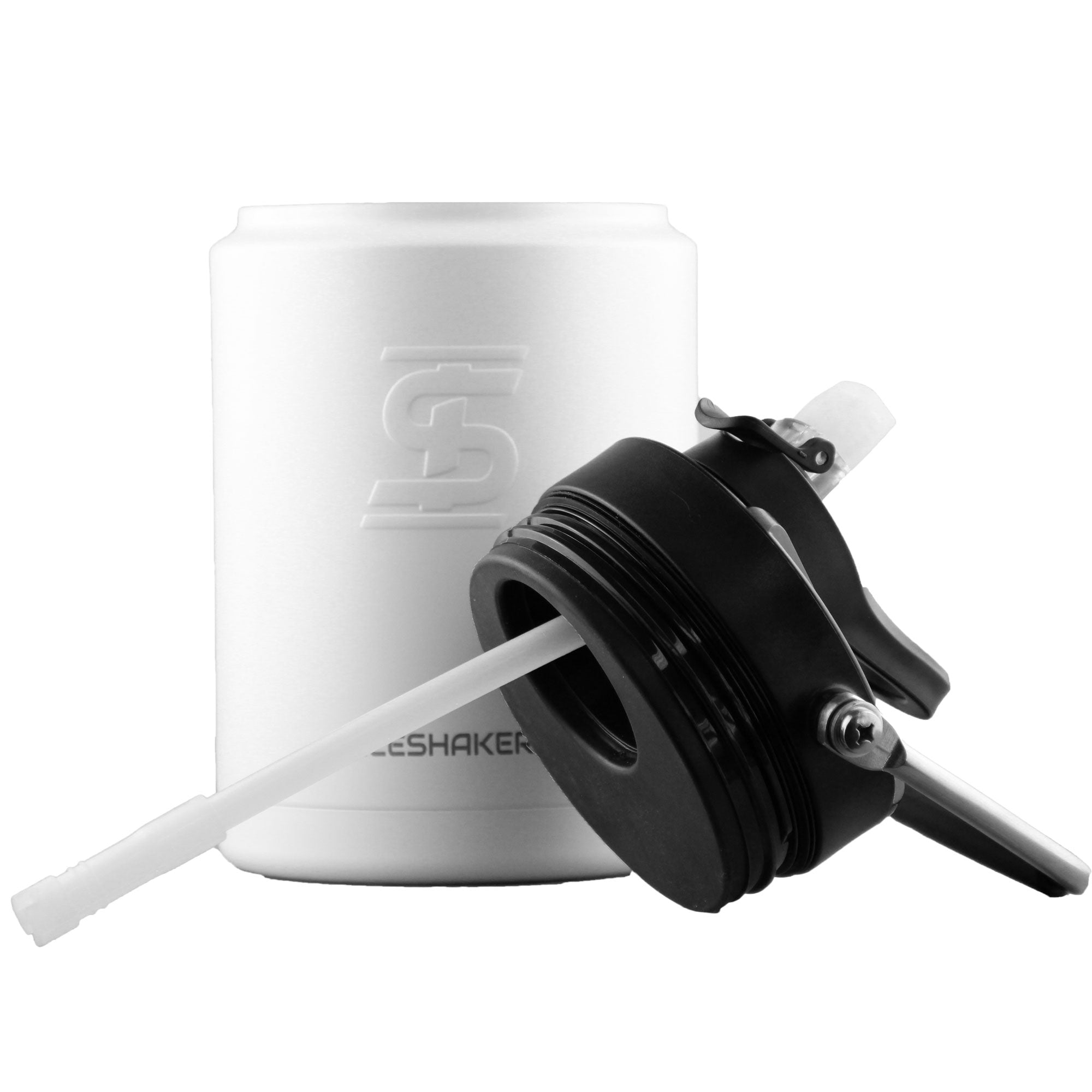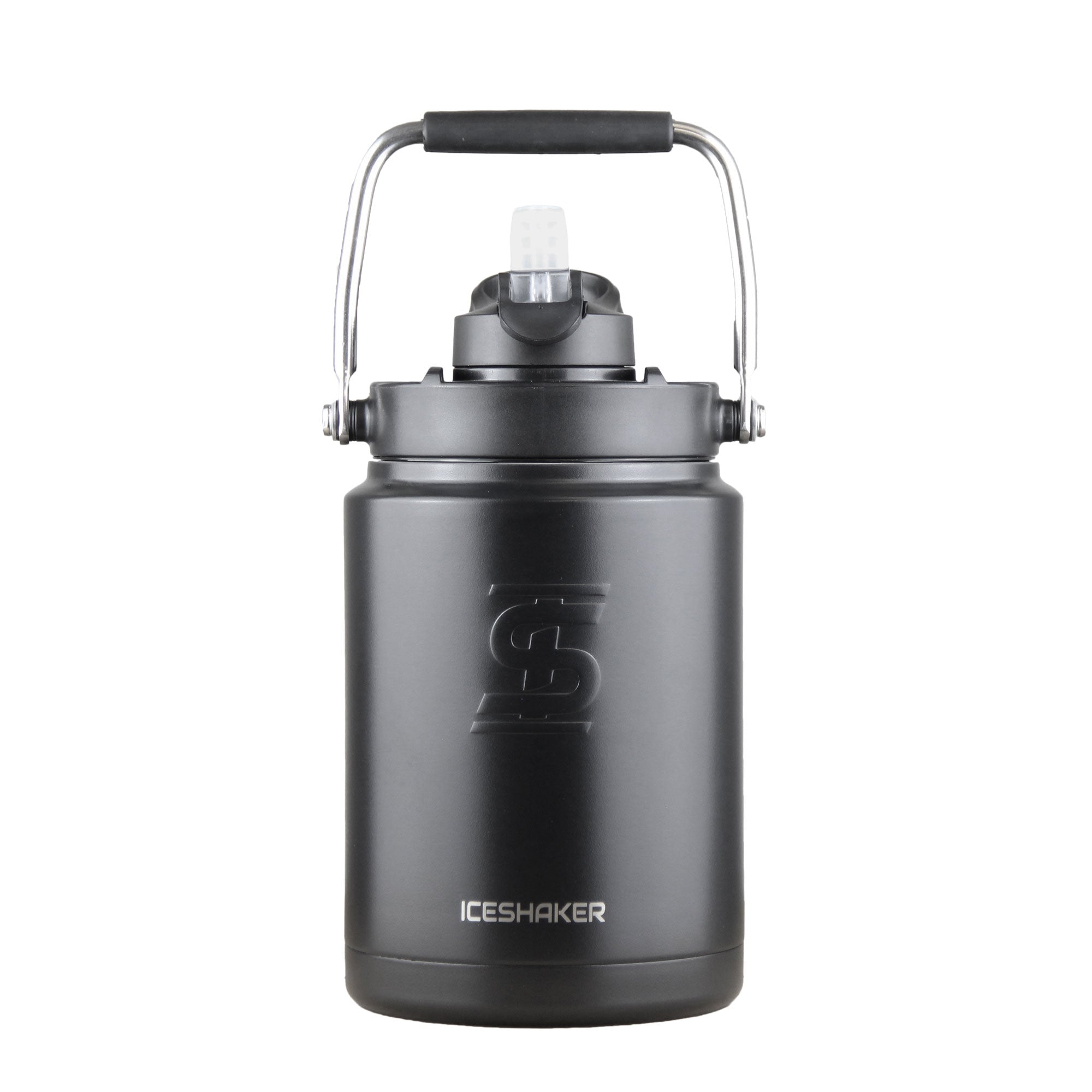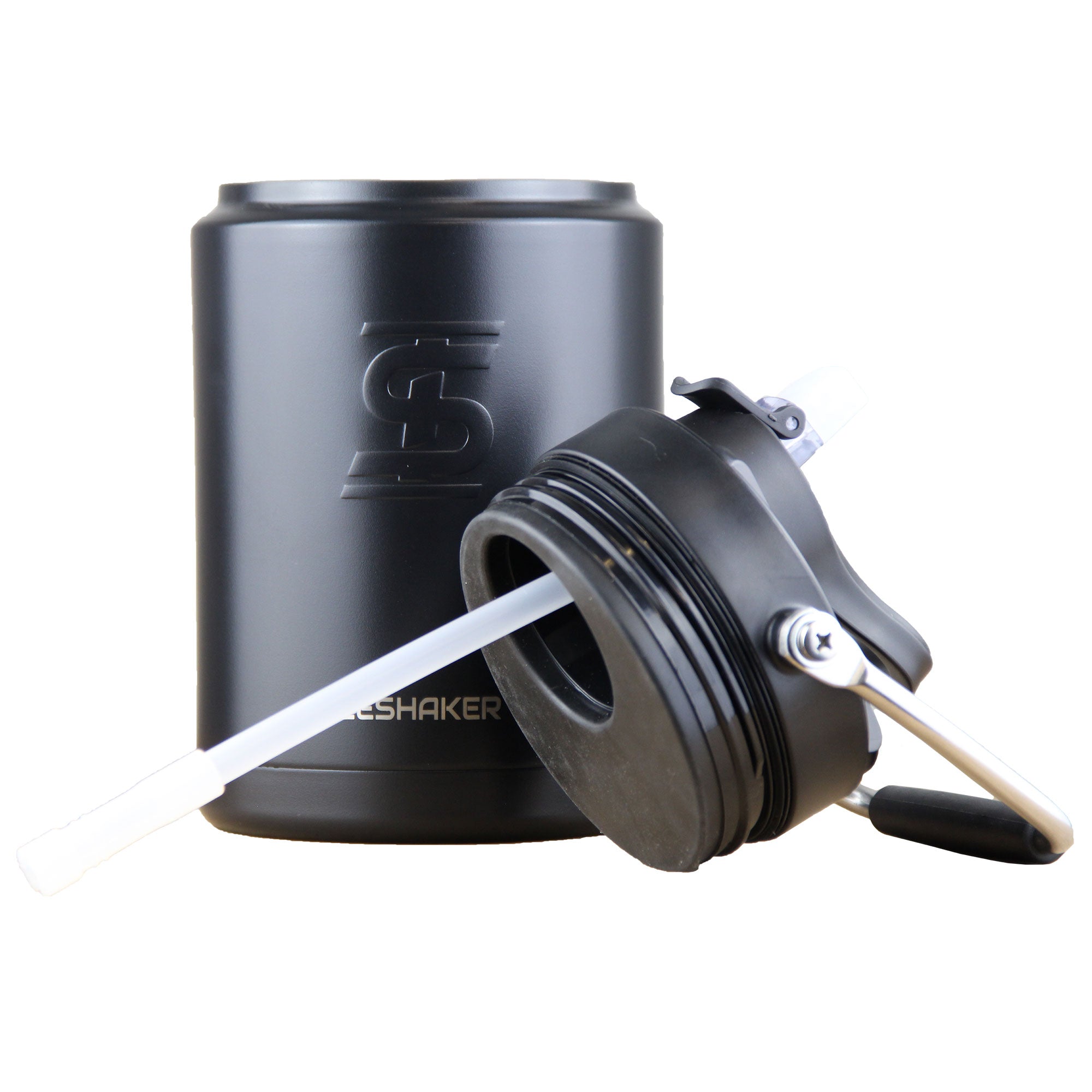 FIT2SERVE Red Black Ombre Half Gallon Ice Shaker Jug
---
Register to receive a notification when this item comes back in stock.
DESCRIPTION
About the Ice Shaker Half Gallon Jugs
Take your hydration up a notch with Ice Shaker's® Half Gallon Jug! Constructed from premium, kitchen-grade stainless steel, the Half Gallon stainless steel bottle will not absorb odors, will not leave behind a metallic taste (unlike most metal jugs and bottles), and is double wall vacuum insulated to keep your drinks cold for 60+ hours and prevent condensation from building up on the outside of the jug.
The unique, multi-purpose lid lets you sip water through the integrated flip-up Sport Straw or chug/pour your water by twisting off the Sport Straw Lid. For easy sipping, the Half Gallon Jug comes with our Sport Straw that regulates the flow of liquid so you're only taking in as much liquid as YOU want. For easy carrying, the Half Gallon Jug comes with a durable and sturdy handle so that you can take your Ice Shaker Half Gallon Jug anywhere you go! Stay hydrated and keep your water ice cold all day with an Ice Shaker Half Gallon Jug.
Half Gallon Jug Features:

Multi-purpose lid lets your sip, chug, or pour
Kitchen-grade stainless steel will not absorb odors
Removable lid unit makes it easy to clean and fill
Sturdy metal handle for easy carrying
100% leak proof and BPA Free lid
Sweat proof
Height of Jug with Lid On: 10"
Height of Jug with Lid Off: 8"
Diameter of Lid: 5"
Diameter of Jug: 5.65"
Weight: 3.5 lbs. (when empty)
100% leak-proof & BPA-free lid
Please note that Ice Shaker Half Gallon Jugs do not come with a silicone base at this time. They feature a metal base.
Ombre bottles are painted using a unique process.  Because of this, no two bottles look exactly the same.  Bottles may vary slightly from the product image.
More Than Just a Jug
Ice Shaker Jugs are easy to carry and are made from kitchen-grade stainless steel that is durable, strong, and ready for everyday use. The double wall vacuum insulation design promises to keep your beverage ice-cold for 60+ hours while the versatile lid lets you sip or pour your beverages. Stay hydrated with Ice Shaker's Insulated Half Gallon Jugs!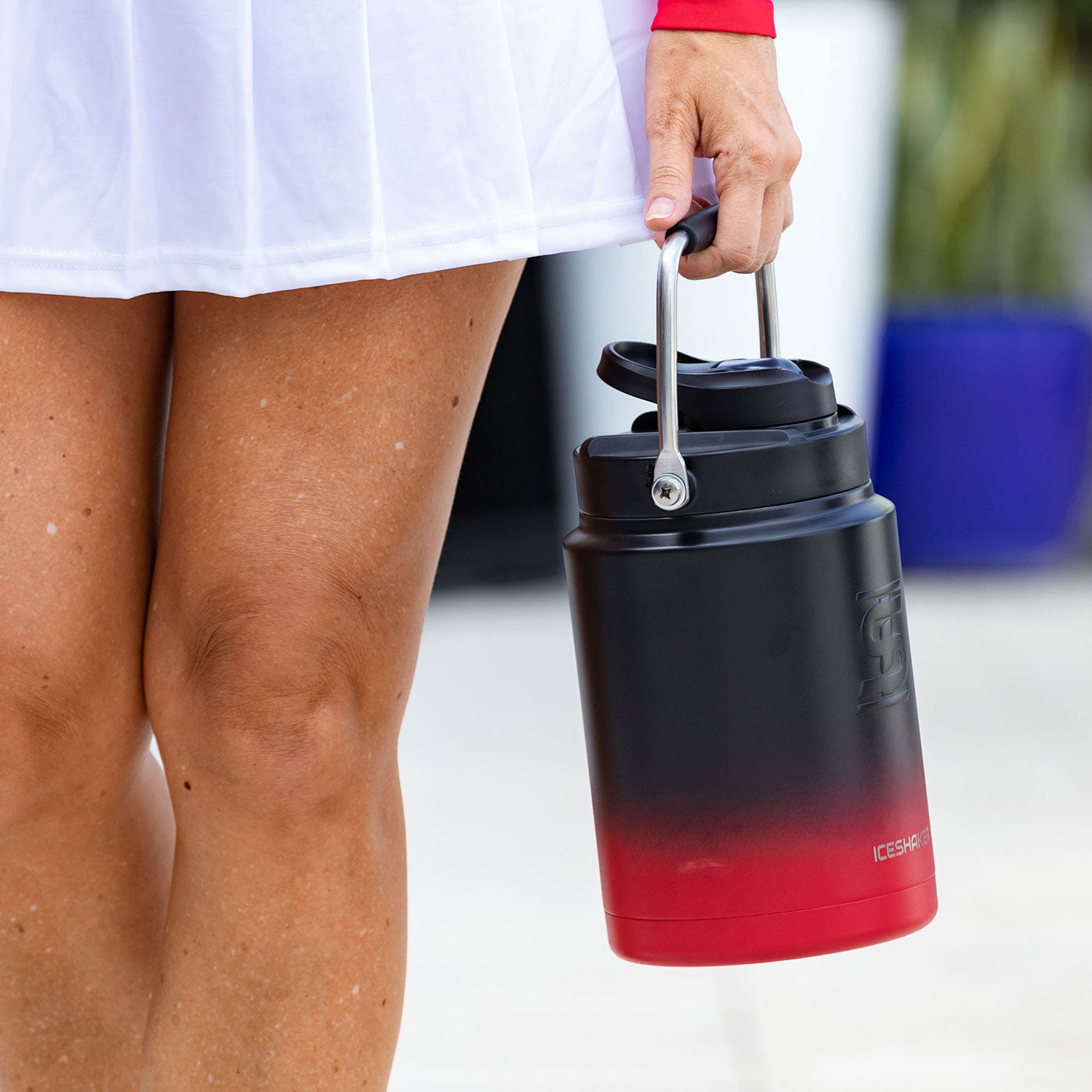 Easy to Carry
The strong and durable handle on the Half Gallon Jug is built into the lid and makes carrying your jug easy and convenient.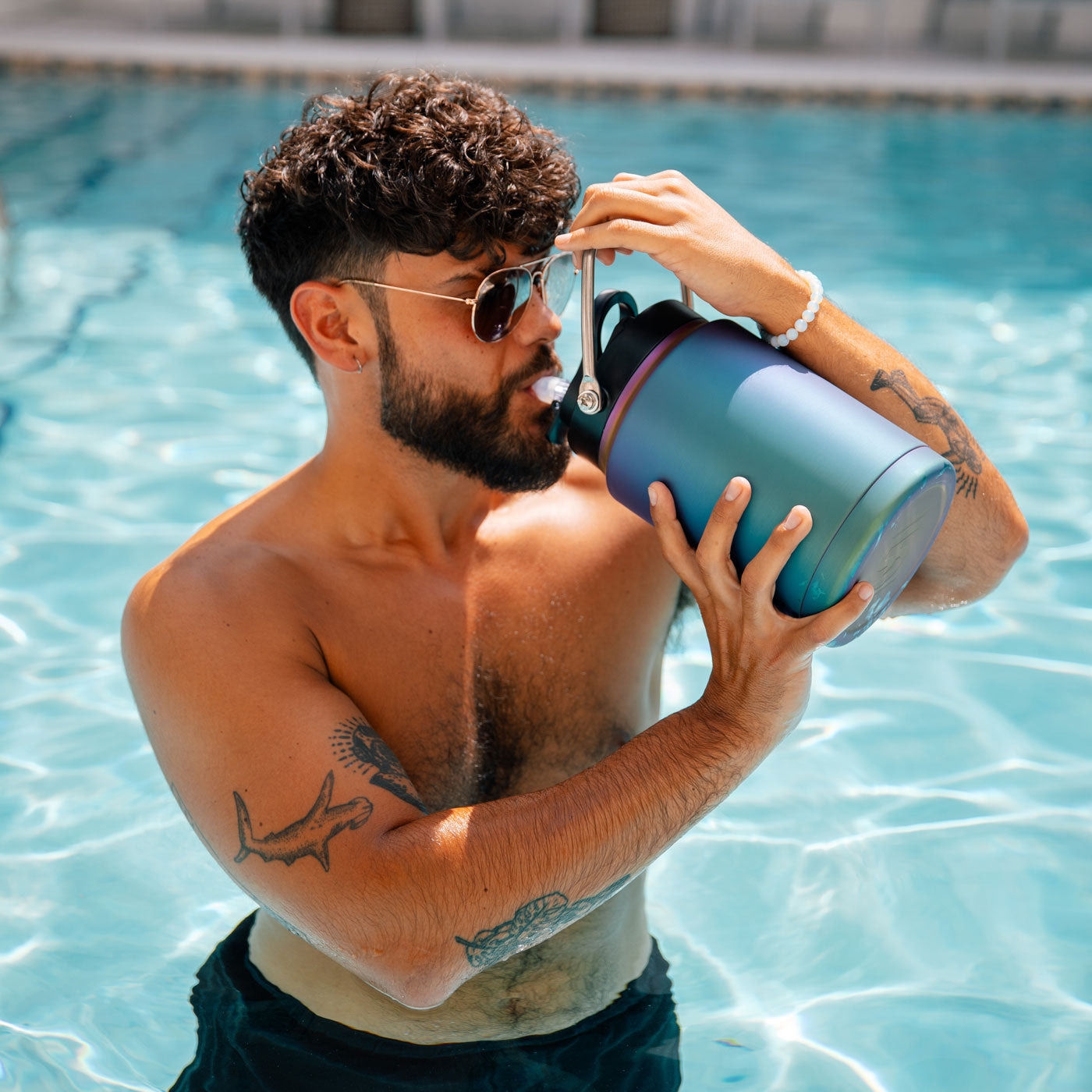 Keeps You Hydrated
The double wall vacuum insulated design will keep your ice-cold water ice cold for 60+ hours, encouraging you to come back for more refreshing water, keeping you hydrated!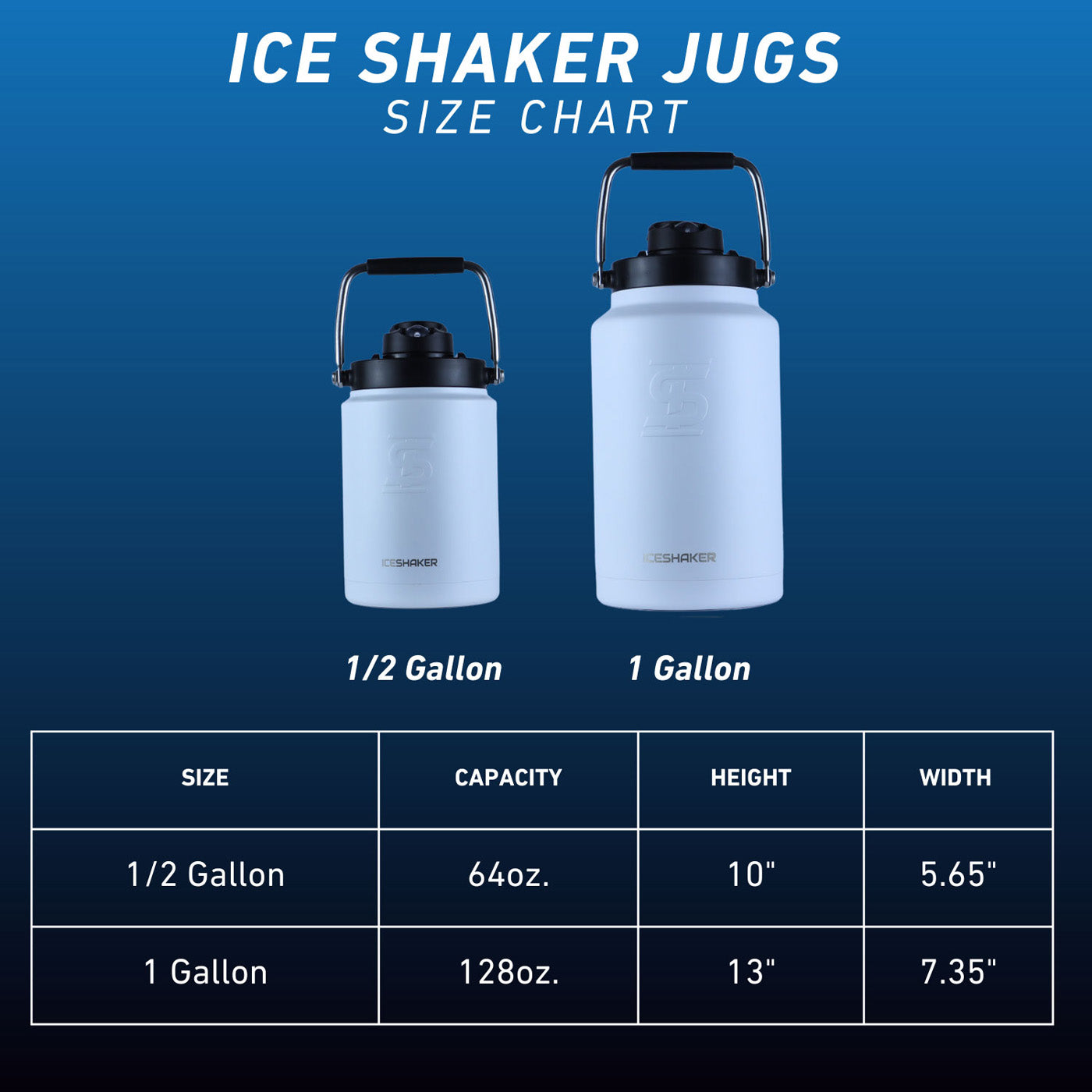 The Perfect Size
Ice Shaker's Insulated Jugs come in two popular sizes: half gallon or one gallon. Both sizes feature a durable yet lightweight design that makes these jugs easy to carry around and drink from.
Dual Flow Lid
The Half Gallon Jug's Dual Flow Lid features 2 lids in one: an Inner lid with the Flip Up Sport Straw that makes it easy to drink from. Or you can twist off the inner lid to pour your beverage directly into your mouth or into another cup. For easy cleaning, the entire lid unit twists off.